A premier destination for content discovery
As ITV's strategic technology partner for over ten years, we've worked with the leading global media provider from day one, from building the original mobile and tablet apps to the transformation of the ITV Hub. Candyspace were proud to work as a strategic digital partner to ITV in 2022 on their most ambitious project to date - ITVX.

In a time when discovery is king in an oversaturated OTT market, ITV set out to create a premier destination for original and beloved content for the UK market. Replacing the Webby-nominated ITV Hub, ITVX is the new home for all ITV content, bringing together exclusive new commissions, the best of ITV drama, one of the largest free film libraries in the UK, and brilliant documentaries.

Together with ITV, the Candyspace team worked in multi-disciplinary products teams to implement ITVX across mobile, including both iOS and Android devices, and on Apple TV. The platform is built on an entirely new technical and user architecture and is underpinned by an enhanced data capability.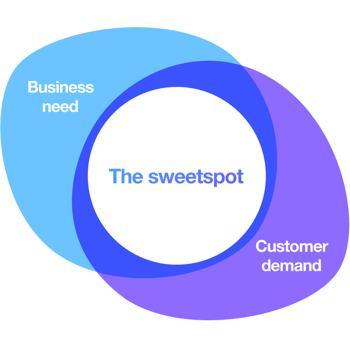 Deliver a world-class integrated advertising and subscription service
A fresh streaming service and a premier destination for new content
Delivering the UK's freshest streaming service
HERE ARE THE RESULTS
33%
Total increase in streaming hours from Jan-Jun
A seamless content discovery experience, regardless of platform

With the popularity of ITV's content and its wide, established user base, it was imperative that the user experience of ITVX was consistent from launch, regardless of how users accessed the app. In order to successfully deliver ITVX on Android, iOS and tvOS, Candyspace worked in three dedicated teams for each platform. By working on a single dedicated platform, Candyspace developers were able to navigate the complexities of native app development and deliver coordinated releases across all three teams.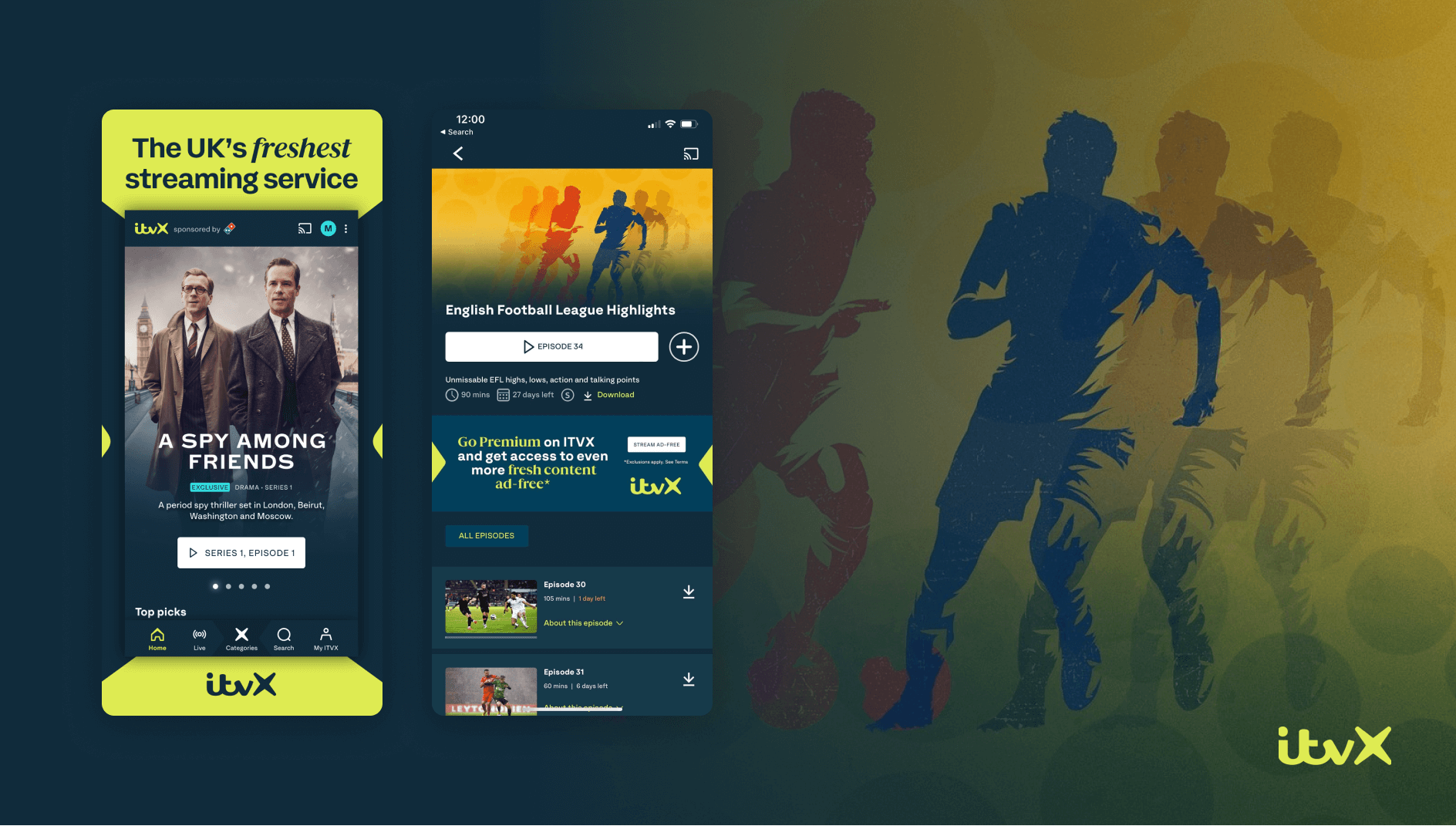 Balancing two distinct subscription models
It was also critical that ITV's new streaming offering was able to compete and stand out amongst competitors in an already saturated market. ITVX introduced two distinct subscription tiers - AVOD (ad-supported video on demand) and SVOD (subscription video on demand). As the previous ITV Hub had no paid-walled content, Candyspace created a redesigned upsell page to inform users of the benefits of upgrading to ITVX Premium. New feeds were integrated to differentiate between free and premium content, keeping users informed and making it clear which content was available to them based on their subscription type.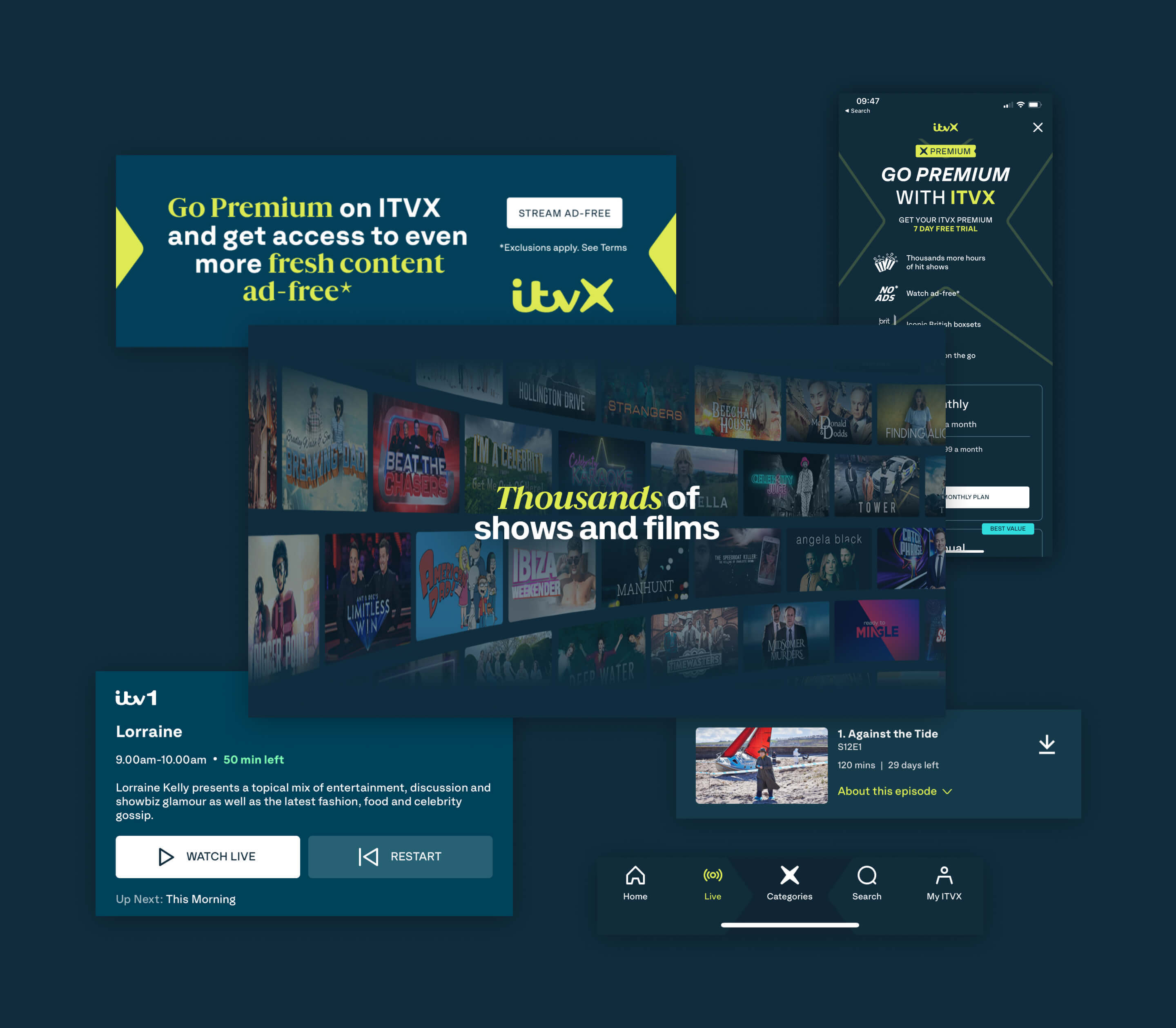 Personalising experience for individual users
Personalisation was also key for new and returning users. Candyspace introduced a new, intuitive sign-in and registration journey that kept users informed and put them in control of the content they could access from the beginning of their in app session. With the introduction of Profiles, ITVX delivered a more personalised experience, including a new kids homepage. With the distinction between an adult and child profile, parents are now in more control over what content their children can access, and keeping the suggestions on their own profiles more personal to them.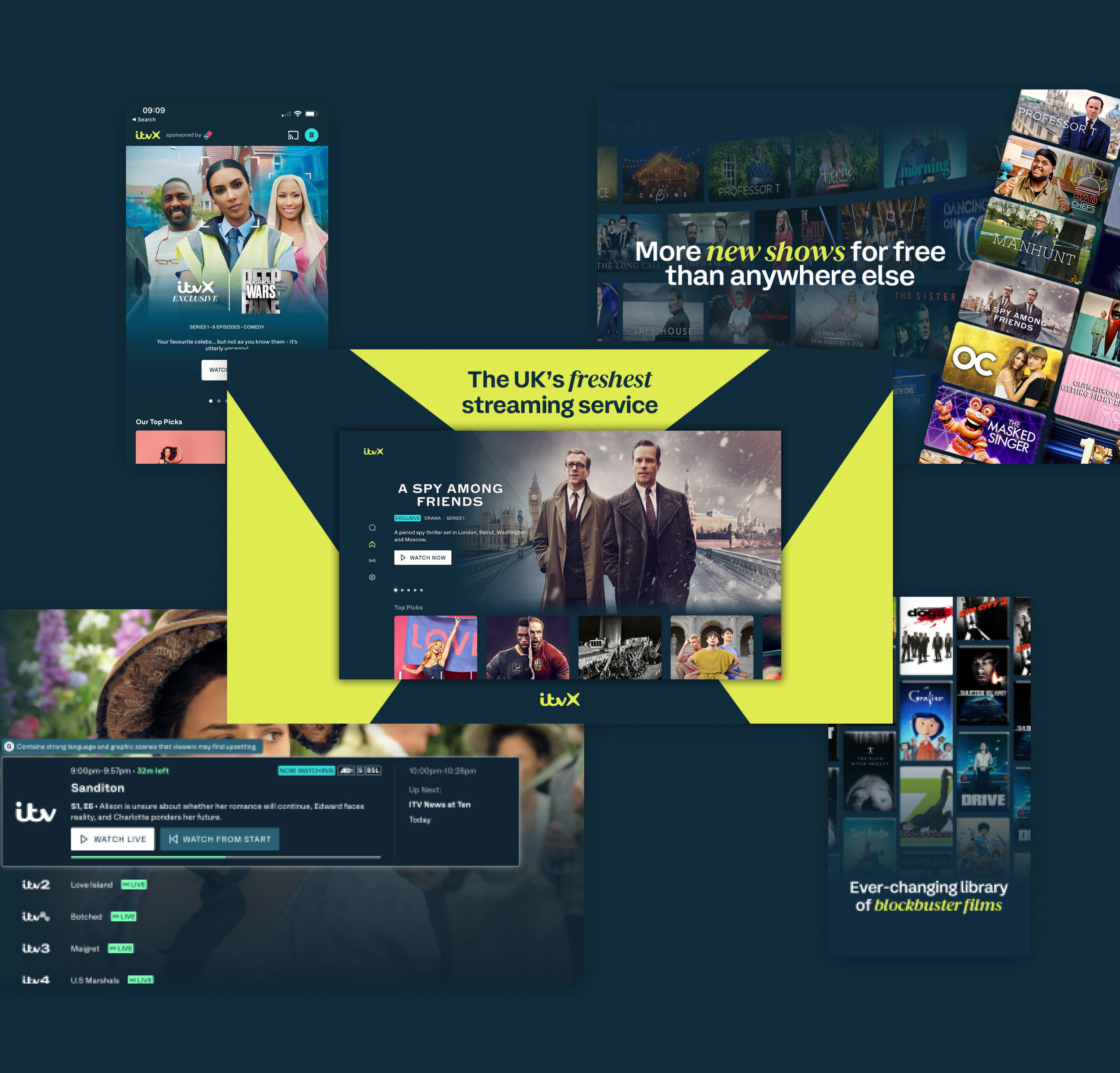 We're really excited to launch ITVX, our new streaming service. Thank you to Candyspace who worked with us on this exciting launch and for their continued partnership.
Enhancing navigation through improved UI
At launch, ITVX had over 15,000 hours of content. To ensure users were able to navigate the vast library of content available to them, Candyspace implemented more than double the amount of previous homepage rails, making content discovery accessible from the moment users launch the app. The new library of tile components also gave editors at ITV flexibility in how they merchandise each rail on the homepage, with the hero carousel putting ITV's event shows at the forefront of content discovery. The improved UI of ITVX showcases the premium content offering and gives prominence to ITV's vast range of content partners.
The launch of ITVX
By implementing the 'sweet spot' approach, balancing the goals of ITV with the needs of their viewers across apps and tvOS, Candyspace was able to deliver an innovative and intuitive user experience that has elevated ITV's streaming offering and created a premium destination for content discovery, resulting in:
Reached 2.5bn streams in 1 year - a 69% increase compared to the same period last year.

Delivered a 33% increase in total streaming hours from Jan-Jun 2023 (compared to the same period in 2022).

Attracted more light viewers, with streaming up 93% across the first six months of 2023.

Overtaken Channel 4 and Disney+ in terms of consideration and awareness scores (source: YouGov's Brand Index)
Talk to our digital experts