Creating a campaign splash for Nintendo
Nintendo were launching their first global game in over 15 years. 'Splatoon' included established characters like Mario, Donkey Kong and Link. So it was huge. And to set the benchmark higher, they wanted the eagerly anticipated game to be as successful as the Mario Kart franchise. Candyspace were tasked with generating an enormous buzz. Not only with gamers and Nintendo fans, but also with a wider audience.

We designed a three-phased approach. Phase One centred on the game's humour. Phase Two introduced the global demos. While Phase Three showed off game-play, reviews and quotes. We produced a rich 360° digital campaign, including full homepage takeovers, bespoke mobile specific formats and engaging Digital Out of Home experiences, marking Nintendo's first forays into the medium.

All Nintendo's brand objectives were met. The overall campaign achieved high interaction rates across the different audiences. And CTR for Splatoon averaged 0.88% across nearly all formats, rising to 4.15% in mobile and pre-roll. The digital campaign surpassed the heights of the Mario Kart 8 campaign, driving a higher number of pre-order sales.
Services
Creative Strategy
Ideation & Concepts
UX Design
Video Production
Motion Graphics
Photography
Sound Design
Front End Development
Data Insights
Deliverables
Creative Concepts
Display Formats
DOOH Formats
Social Content
Campaign Optimisation
Campaign Measurement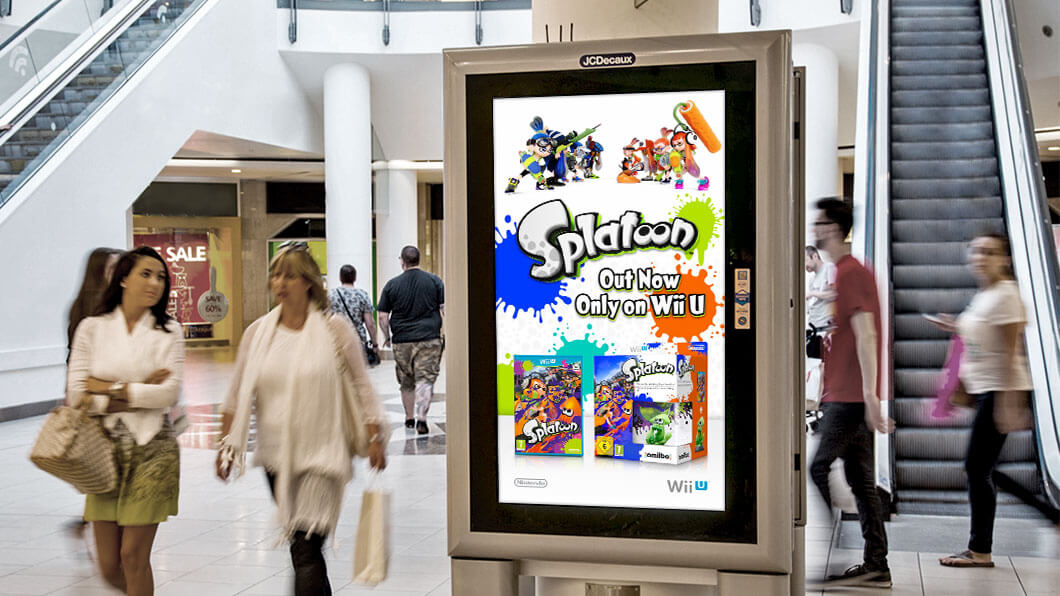 As a Nintendo fan, to be able to work on their very first digital out of home project for Splatoon was amazing.
Leave your details and we'll be in touch asap.