The power of optimisation and experimentation
Increase the number of customers taking the actions that matter through analysing, testing and learning. Actions that matter are those solving real customer needs and are directly linked to your business growth.
When is optimisation right for your business?

You're losing customers at different parts of the sales funnel
You're

not communicating

your key USPs as well as you could be
You have some ideas you would like to test but unsure where to start

You want to

understand your customers

better through data
You're struggling to stand out against your competition
You want to

streamline journeys

between online and offline channels

You're looking at

different approaches

to achieving growth
You want to

maximise ROI

from your investment into analytics tools

OPTIMISATION SUCCESS STORY
We embedded an optimisation culture within Mazda, streamlining the online car buying journey and increasing leads into dealers by 55%
The benefits of optimisation

Best-in-class experience
Incremental improvements continually evolve your digital product for the optimal user experience

Increased profitability
We work collaboratively with you to optimise the conversion points that maximise your revenue

Cost saving
The test and learn process allows us to experiment and prove hypotheses before you invest in costly features
Boost ROI with industry leading tools
Whether you are at the beginning of your optimisation journey or you already have a mature culture
in experimentation, we have the right tools to suit your business needs and budgets
Targeted methods to drive your success

Design look and feel
Ensuring the customer experience website is visually compelling to drive the metrics that matter.

Personalisation
Identify, understand and test personalised experiences to drive LTV.

Loyalty programs
Experiment to understand what method of loyalty works best for continually changing consumer needs.

Navigational experiences
Improving the route for users to navigate to key conversion points.

Form optimisation
Decrease friction whilst driving business value.

Promo optimisation
What structure, level & type of incentive drives sales without impacting profit.

Funnel optimisation
Increase the number of users getting through high friction funnels.

Copy optimisation
Ensure you are effectively communicating with your customers.

Revenue optimisation
Margin is often overlooked in experimentation. We drive revenue with a focus on profitability.
A process that drives your growth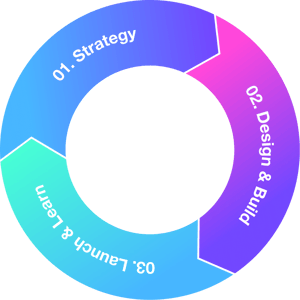 01.

Strategy

Build a process driven strategy that delivers growth in velocity & win rate
02.

Design & Build

Create a best in class design & build process to ensure hypotheses deliver KPI driving experiences
03.

Launch & Learn

Deliver a roadmap that continually optimises conversions, process and overall experimentation strategy
A tried and tested optimisation process that delivers tangible results
Candyspace are a joy. The success of the digital brand campaign is testament to their creativity, and focus on results.
Small investment with a big return
WAYS OF WORKING
Starter
(2 experiments per month)
Analytics Audit

Platform implementation

Platform integration & training

Ideation workshop

Prioritised backlog

Experimentation roadmap

2 experiments per month

In-depth post experiment analysis

Quarterly meetings
Minimum term 3 months
Advanced
(3 experiments per month)
All of Starter plus:
3 experiments per month

Monthly backlog refinement

Monthly research roadmap

UX & designs recommendations

Weekly monitoring of experiments

Weekly experiment insight report
Minimum term 6 months
Expert
(5 experiments per month)
All of Advanced plus:
5 experiments per month

Monthly ideation workshops

Monthly data research & findings

Multiple design options

Daily monitoring of experiments
Minimum term 12 months
Any questions? Let's talk